Industries from paint to pharmaceutical and everything in between use tote

s and IBC's for receiving raw ingredients, processing and storage, and shipping out finished goods. Good Manufacturing Practices require regular cleaning of these totes and IBC's for many reasons: to prevent product cross contamination, bacterial growth, residue removal prior to reuse or disposal, and many more.
Why not just clean totes by hand?
Cleaning by hand results in inconsistencies from person to person, shift to shift, because not everyone will clean the same every time. Trying to clean with a wand in the hard to reach tops and corners can leave you with a still-dirty tote. High pressure sprayers are also cumbersome and can be dangerous.


The benefits of automated cleaning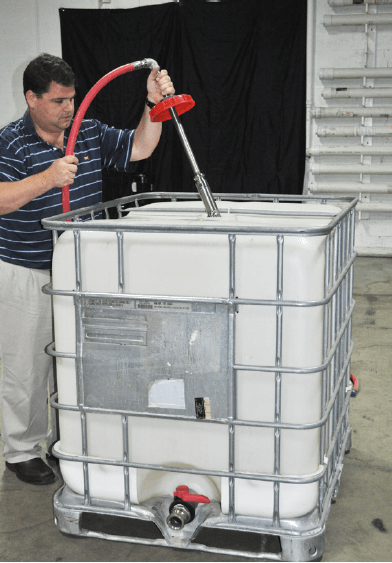 Automated cleaning of your totes and IBC's is a faster, less expensive and safer alternative to hand washing or sending them out. A rotary jet head's powerful jets of high impact wash fluid rotating in a 360-degree pattern, will cover the entire interior of the tote/IBC to guarantee complete and effective clean each time, every time.

The Alfa Laval GJ Toteblast station comes equipped with everything needed to set up an automated IBC/tote cleaning station right onsite. The fast 2-7 minute cleaning time is 70-80% faster than pressure washers and uses up to 80% less water than spray balls. With less time spent cleaning totes, the ToteBlast also frees up manpower for production. Overall savings can mean hundreds of hours of labor and thousands of gallons of water saved per year!


Quick case story: Tote cleaning turnaround
For years, A Georgia based chemical company was frustrated by the costs of sending dirty totes to their tote supplier for refurbishing/cleaning, and the time it took to clean them by hand if they chose to have them cleaned in-house. They also had to make sure that re-used totes were 100 percent clean, to avoid the dangers of cross contamination between product shipments. Oftentimes, the cleaning done in-house by hand was less than perfect.

The company gave the Alfa Laval GJ ToteBlast station a shot at cleaning their totes, and soon after they were able to bring the entire tote cleaning process in-house, completely eliminating the costs of sending them to the tote supplier for refurbishing. Additionally, the Alfa Laval ToteBlast cleaned their totes 25-50% faster than manual cleaning, taking only 4 to 7 minutes depending on the amount and type of residue. The totes were 100% cleaned, every time.

Alfa Laval's tote cleaner saved the company time and money, so much so that it paid for itself in one just week!