Cost effective impingement tank and tote cleaning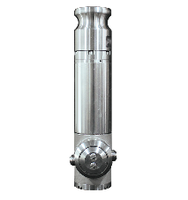 A quantum leap in tank cleaner durability, efficiency, and price, the Alfa Laval GJ 9 is a totally new tank cleaning system. The GJ 9 tank cleaning machine offers compact cleaning for small and mid-sized tanks with fewer parts, and a highly durable design, providing superior performance at an affordable price, making it the ultimate tote washer.

Fewer parts means fewer breakdowns and lower maintenance costs. Coupled with our renowned product quality, the revolutionary GJ 9 tank cleaning machine designed-in durability allows its use in rugged applications in the harshest environments.

The GJ 9 is a high-quality tank cleaning machine. Originally designed for tote cleaning applications, it is also perfect for other small and mid-sized tank cleaning. Its 360° spray pattern provides thorough scouring of the entire tank or tote, reducing operating time and costs.

At an unbelievably low price, the GJ 9 tank cleaning machine sets the standard for cost-effective impingement tank cleaning and tote washing.