Full-coverage UST cleaning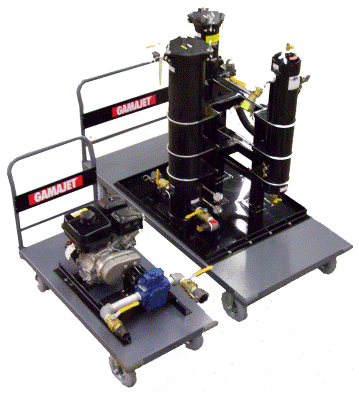 Today's fuels are less stable and breakdown over time, allowing contaminants to thrive in storage tanks. Without proper cleaning, tanks are susceptible to the build up of sludge, loss of capacity and contamination. In addition, tanks must be cleaned prior to inspection, maintenance, decommissioning, transportation as well as any product changeover. With the MegaJET system, you can clean an entire UST in less than half an hour, regardless of the reason.

The MegaJET System utilizes a GJ 10 which can fit through a standard 4 in. (100 mm) opening. In using Alfa Laval's rotary impingement tank cleaning, the MegaJET will clean tanks thoroughly up to 30,000 gallons (130,000 l) in capacity, from one drop. Snaking or manual entry often fails to clean the top-half of the tank.

The system is designed to utilize the diesel or other class II fuels as the cleaning agent, therefore requiring no water. Equipped with a series of filters, the system will capture all bulk sludge as well as the finer particulates, therefore leaving both a clean tank and polished fuel. This system is not to be used with water or gasoline.