The outdoor portable tank cleaning system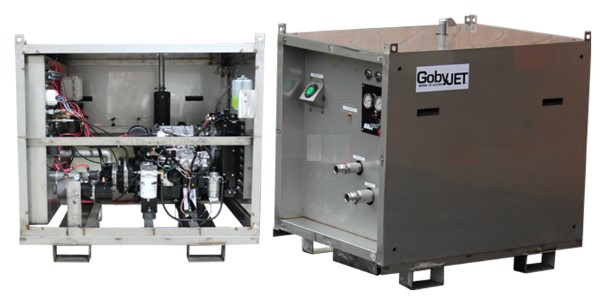 Use an Alfa Laval tank cleaning machine to clean any time and anywhere with this diesel powered high pressure pump system. The Alfa Laval Gamajet GobyJET is a portable tank cleaning system capable of powering a variety of Alfa Laval tank cleaning machines for any outdoor portable tank cleaning application, from oilfields, to lift stations.

Every Alfa Laval tank cleaning machine is fluid driven combining pressure and flow to create high impact jets. These jets scour the entire interior in a repeatable and reliable 360-degree pattern, blasting contaminants from the surface. The GobyJET provides the necessary pressure and flow to develop impact enough for heavy-duty tank cleaning which can be accomplished at any location in a safe and efficient manner.

The portable design of the GobyJET allows for easy transporting and mobility fitting right in the back of a pick-up truck, no special training required. In addition the GobyJET is a fraction of the cost of large combination pump trucks, making it the best tool for the job. Remove your crew from dangerous cleaning and start saving time, money and water today.