The smallest rotary impingement tank cleaner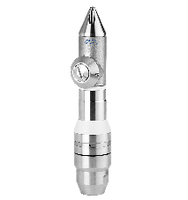 The GJ 7 tank cleaning machine is a small, powerful unit ideal for cleaning all types of barrels, drums and small vessels. It eliminates extensive handling by offeringone-step, one-insertion cleaning.

This rotary impingement tank cleaning machine can deliver fast "as new" cleaning in less than two minutes, and works especially well in tough cleaning situations involving wine, paint, and other difficult to clean materials.

The GJ 7 represents a major technological break-through, offering the most powerful cleaning in a compact, easy to handle size. Capable of running with the pressure and flow of your standard pressure washer.