Effective tank cleaning with low operating costs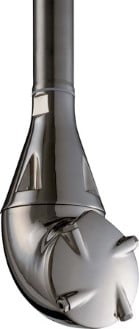 The award-winning patented design of the Alfa Laval TJ 20G rotary jet head was developed to meet the highest standards of efficiency, reliability and hygiene within the food, beverage, pharmaceutical and biochemical industries. The TJ 20G provides a 360 degree high-impact cleaning pattern over a defined time period, automatically indexing to achieve the utmost in quality assurance in tank cleaning.

The TJ 20G is suitable for processing, storage and transportation tanks between 4,000 and 40,000 gallons and is also available in a retractable version.