Powerful, sanitary tank cleaning for a variety of pressures and flows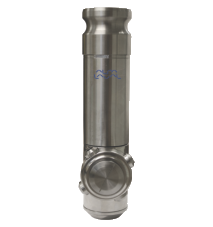 The Alfa Laval GJ PF FT tank cleaning machine was specifically engineered to offer the most efficient and effective cleaning for vessels with capacities of 5,000 to 25,000 gallons. This durable machine offers optimal cleaning at a variety of pressures and flows.

The sanitary design of the GJ PF FT makes it ideal for use in food and beverage, pharmaceutical and personal care industries, for both portable and permanent applications. The standard machine is self-cleaning, self-flushing, and self-lubricating, requiring no oil or grease in the gear train. All components of the GJ PF FT are made from FDA compliant materials.

The key to the GJ PF FT's versatility and durability is the use of an oversized gear head that efficiently generates the proper torque to rotate the unit. The larger components last 20-30% longer than traditional drive mechanisms, making the GJ PF FT our most durable design to date.


The large gear reduction allows the GJ PF FT to operate at lower pressures and higher flows when compared to other tank cleaning machines. Like other Alfa Laval tank cleaning machines, the GJ PF FT uses the same proven l impingement cleaning pattern, scouring 100% of the tank, every time.