Plate heat exchanger parts and service
Your trusted plate heat exchanger onsite turnkey service provider
You can trust Alfa Laval's onsite turnkey service technicians to repair and recondition your gasketed plate heat exchangers – no matter the brand. With over 500,000 parts in stock at our centrally-located distribution center in Indiana, we also have your parts needs covered. We've serviced equipment for over 125 years and recondition over 86,000 plates every year in the US. Five of our local service centers are outfitted with the equipment and expertise to optimize the performance of your gasketed plate heat exchangers.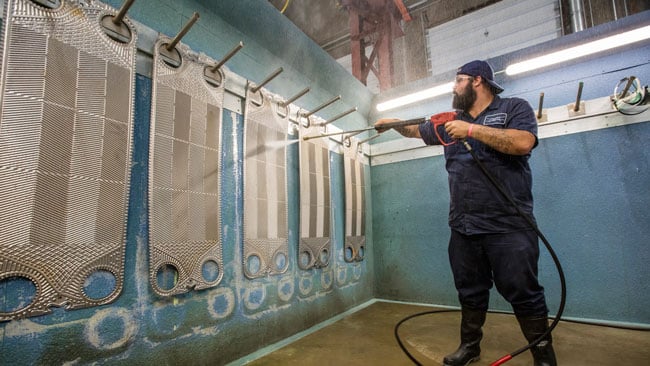 Buy plate heat exchanger parts online!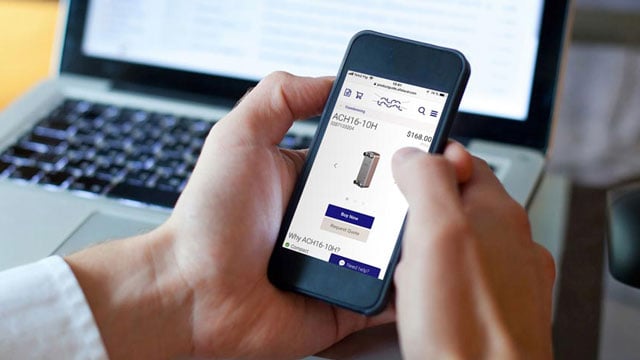 You can now purchase gasketed plate and frame heat exchanger gaskets and gasketed plates on the new Alfa Laval Web Shop! Click below to start shopping.
Onsite turnkey service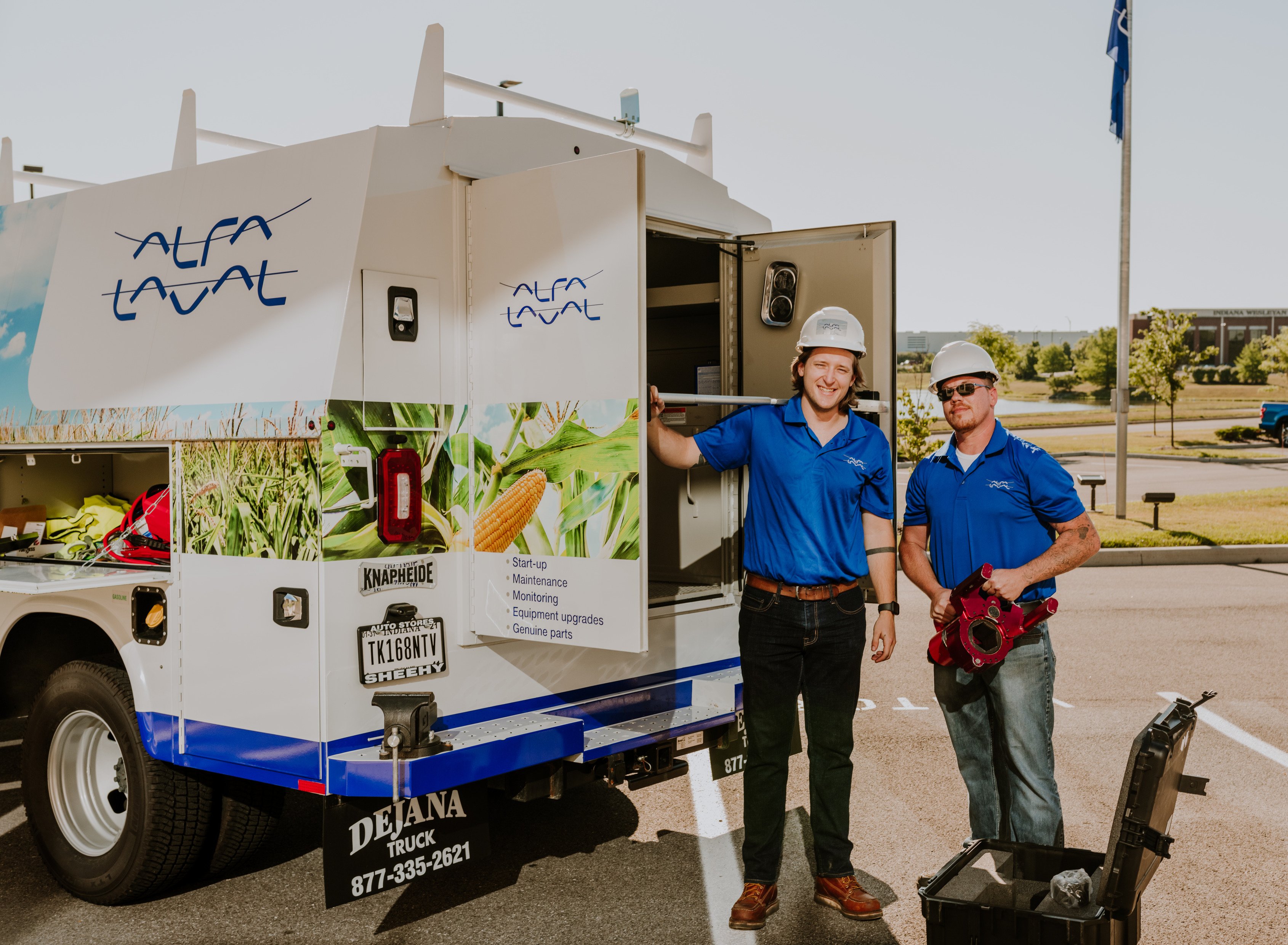 We bring the tools, knowledge and personnel so you can get on with your day and leave the service to us.
"I wish we would have hired you from the start."
We hear this all the time from customers that switch to Alfa Laval from another gasketed plate heat exchanger service provider. Why? Because we don't rest until we know your problems are solved.
Other service providers only focus on fixing the immediate problem. With over 125 years of service experience, our team of advisors go beyond the quick fix and focus fixing your equipment for the long haul. This is why we want you to think of us as not just a heat exchanger manufacturer, but as The Plate Heat Exchanger Service Company you can count on.
Heat exchanger reconditioning and repair services
Two of the most common reasons for decreased efficiency in heat exchangers are old gaskets that cause external leakage and deposits such as scaling, which lower the heat transfer and eventually clog the channels. By reconditioning your heat exchanger, you can solve these problems.
At Alfa Laval's well-equipped service centers, our experienced technicians remove gaskets and scaling with specialized tools and chemicals. This prevents corrosion and creates an ideal surface for re-gasketing – without you having to handle the chemicals or waste. In addition, we thoroughly examine your heat exchangers, correcting any sealing problems or deformities. These services ensure your equipment continues to deliver high efficiency and optimal performance.
Plate heat exchanger frame repair service includes inspection, refurbishment, replacement of connection linings, and replacement of bolts or other frame parts. While reconditioning plates must take place at one of our service centers, some frame repairs can be performed onsite.
Reconditioning procedure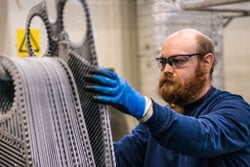 Pre-cleaning inspection
Upon arriving at the service center, your heat exchanger plates are examined for major corrosion, erosion and deformities. Our technicians will determine whether the plates should be reconditioned or replaced.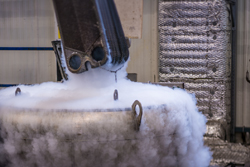 Gasket removal
We use an efficient, yet gentle, method to remove the gaskets using liquid nitrogen or caustic soda, which completely removes the gasket while leaving the groove intact, preventing plate damage. Some field methods of removing gaskets, including using propane torches or rotating wire brushes, can severely harm the plates.
Hydrojet cleaning
The heat exchanger plates are initially cleaned with water to remove residue.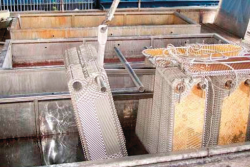 Chemical cleaning
The plates are immersed in specially formulated chemical baths, whose concentration and temperature are carefully regulated for the gentle removal of deposits.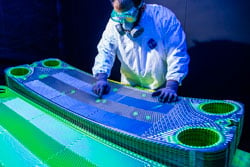 Crack and deformity detection
Each plate is sprayed with dye and then carefully inspected under UV light to find even the smallest defects.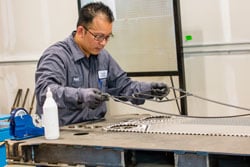 Regasketing
We carefully regasket the plates using a strong, 2-part epoxy glue, which is far superior to the rubber based contact cement used by other service providers.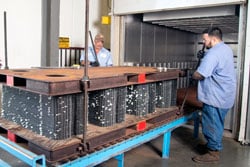 Oven-cured gasketing
The plates are then placed in a curing skid and baked in an oven for 3-5 hours under compression.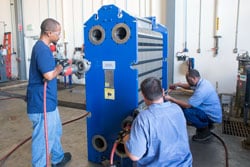 Pressure testing
When the heat exchanger is reassembled, a full hydrostatic pressure test is performed to ensure there is no leakage.
Reconditioning report
Finally, you'll receive a detailed heat exchanger service report, including the procedure documentation and recommendations based on your results.
Plate heat exchanger spare parts
Alfa Laval maintains an extensive inventory of spare parts for your plate heat exchangers. Our centrally-located distribution center in Indiana has more than 570,000 spare parts in stock.
Heat exchanger cleaning
With our cleaning services, process surfaces are restored to optimal condition, which lowers the maintenance costs and extends your equipment's lifetime. Alfa Laval offers a range of Cleaning-In-Place (CIP) systems and cleaning agents, specially designed and formulated to remove deposit build-up effectively from heat transfer, separation and fresh water generator equipment.
We only use carefully developed and environmentally sound chemicals.
Learn more about Alfa Laval CIP systems
Performance Audits
A Performance Audit verifies your plate heat exchanger is performing according to design specifications and helps identify areas where performance can be improved. A Performance Audit is especially useful when service intervals are difficult to predict and optimize.
A Performance Audit includes:
Data collection and measurement - a service engineer will visit your facility to visually inspect your units and to log data using a portable logger with four temperature gauges and a flow gauge. This process does not disrupt operations and usually takes about one hour per unit.


Analysis of data - back at the office, the engineer runs the data through a thermal analysis software program that uses performance benchmarks for every Alfa Laval plate heat exchanger to derive your heat exchanger's optimal heat load.


Audit report - you'll receive a report which will compare your heat exchanger's performance to benchmark performance and indicates if your plate heat exchanger requires service.
Performance Agreements
Alfa Laval Performance Agreements are tailor-made service solutions that combine any of our services, based on your specific needs. To maximize your performance and reduce your operating costs, these agreements bring you peace of mind by minimizing the risk of unexpected breakdowns. They also give you full control over your maintenance budget.
Plate heat exchanger upgrades
Increase the performance of your gasketed plate heat exchangers to meet growing process requirements with our equipment upgrade services.
If you already have an Alfa Laval gasketed plate heat exchanger, you may be able to replace you current plates with our next-generation plate pack to take full advantage of new plate features.
Learn more about upgrade options
Gasketed plate heat exchanger service centers
Buy PHE parts online!
You can now purchase clip-on gaskets and gasketed plates (clip-on and glued) on the Alfa Laval Web Shop!
Plate heat exchanger integrity testing
Gasketed plate heat exchangers are durable and long-lasting. But after prolonged use, plates can develop microscopic cracks, and gaskets can show fatigue over time. Alfa Laval now offers a new preventative maintenance approach to help you avoid unscheduled or unexpected downtime. The integrity tester is non-intrusive, quickly identifies potential microscopic flaws before they become leaks, and reveals plate and gasket condition without opening the plate pack.
How to properly service your plate and frame heat exchanger
Watch heat exchanger experts Lauren Mitchell, Kristi Smith and Cosimo Pecchioli demonstrate how to properly open, install plates and close your plate and frame heat exchangers. Engagement on this event was the highest we've seen, so you won't want to miss it!
Heat Exchanger Maintenance Pop Quiz
Test your heat exchanger knowledge against the best and brightest in the ethanol, sugar and sweetener industries. In this webinar, quiz questions will be presented to the audience and then the instructor will provide detailed answers. Questions will range from novice to expert. Play along to see how you rank against the other attendees.
How to lower your maintenance cost on any brand of GPHE and maximize the value for your maintenance dollars
Concerns over climate change have driven the refrigeration industry to place more focus on natural refrigerants. CO2 is a natural refrigerant growing in popularity in our refrigeration systems, but it comes with the challenge of designing components rated for higher pressures. Join us to learn more about Alfa Laval's Industrial Refrigeration heat exchangers for high pressure applications.
GPHE - Preventive maintenance webinar
Owning, operating and maintaining an Alfa Laval SWPHE (Semi-Welded Plate Heat Exchanger) is a relatively simple process, as long as a few guidelines are followed. We will present some of the benefits semi-welded units bring to refrigeration applications and look at various troubleshooting scenarios in the event a problem exists.