Recovering lost belt press performance
A southern U.S. refinery was seeing performance drop off from two almost 30-year old belt filter presses. They were thinking "replacement", but Alfa Laval saw a way to restore performance at a much lower cost.
DATE
2023-11-28
The situation
When a southern U.S. refinery started having mechanical and capacity issues with their two Ashbrook Klampress belt filter presses, they were concerned, but not surprised. The two 2.0-meter-wide machines were built in 1987 and 1992 and had delivered great results for three decades. The oldest machine was a Klampress Mark II that had been upgraded to a Type 85 during its life (upgrading an old design is a great way to increase performance without total replacement), and the newer machine was built as a Type 85.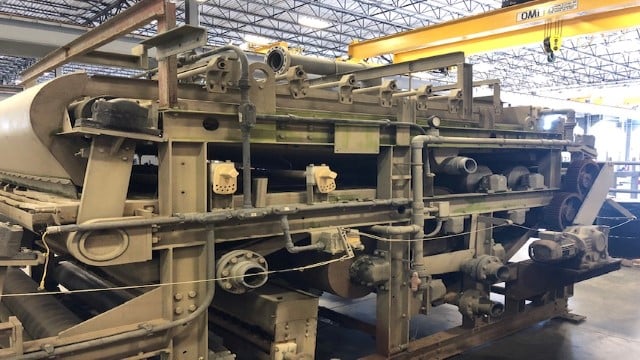 A refinery environment can be tough on equipment, and the wear and tear were starting to take their toll as the machines were not able to handle the desired feed rate or maintain the desired cake dryness consistently. They had also been required to make unplanned repairs on the machines in the prior months.


For large facilities, this can mean thousands of pounds of reduction in sludge per day. If this sludge requires special handling or shipment to a landfill facility far away, thousands of pounds less sludge cake daily could mean a huge savings to the facility. Issues such as misalignment of belts, leaking hydraulic seals, or frame integrity can all impact how well a belt filter press performs.
The options
When the refinery decided to call Alfa Laval, the solution they had in mind was to replace the two machines. The two belt filter presses had served the facility well, but 30 years is a long service life for equipment in this application.

The call to Alfa Laval led to a visit from one of Alfa Laval's water and wastewater experts.
It was recommended to the customer that before spending the capital on completely new machines, that they work with Alfa Laval to address the mechanical as well as process related issues on the existing belt filter presses. This would involve a partial rebuild of the at the customer's site along with hands-on training with the operators so they could be better prepared to address mechanical, as well as process, issues should they see any in the future.
The outcome
Arriving on site, the certified Alfa Laval field service technician carefully reviewed the prepared list of itemized repairs and adjustments. , each item was addressed with parts being replaced as needed. Some of the repairs included multiple rollers and bearing replacements, along with replacement of all the support wear strips under the filter belts, rubber seals, hydraulic motor, tensioning and steering cylinders. Steering/tracking valves and paddles just to name a few. All of this had to be tracked and tuned in. Training was also performed with the operators, highlighting what key things to look for in the process that would identify that adjustments should be made.

By choosing the option provided by Alfa Laval to undertake in the partial belt filter press rebuild and process optimization, the refinery saved over $200,000 in expense.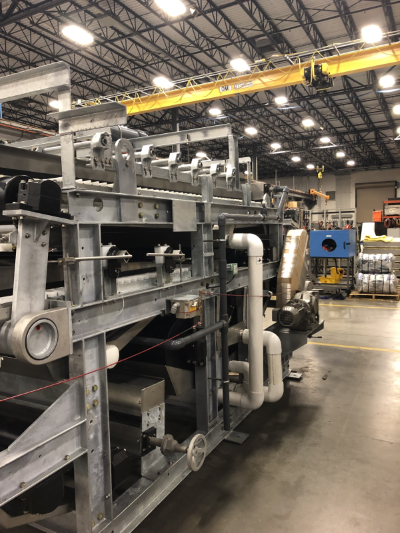 The takeaways
Rebuilds and retrofits are a great way to address changing conditions and aging infrastructure without the full capital investment of new equipment. With a rebuild or retrofit from Alfa Laval, you can potentially see the benefits of:
A return to, or even increase in, throughput and cake dryness
Fewer issues interrupting processing
Less time required from your operators to address issues
Peace of mind and assurance that only the highest quality OEM parts were used in your rebuild or retrofit
You may also be interested in: