Alfa Laval's wide range of heat exchangers is found in numerous residential and commercial climate applications – including air conditioning (chillers), tap-water heating (boiler/solar), heat pumps and transport refrigeration.
Driving innovation for natural refrigerants
We are a proud sponsor of the North American Sustainable Refrigeration Council (NASRC) #SustainableRefSummit. Hear from our experts Diego Orsucci and Tommy Angback at the 2021 Sustainable Refrigeration Summit here. The video will drive you through our recent innovations in the natural refrigerants space as part of the North America Sustainable Refrigeration Council's (NASRC) Annual Summit - Technology presentations.
Browse the latest brazed plate heat exchanger catalog
The first Alfa Laval brazed plate heat exchangers (BHEs) were developed in the seventies. Today they are well-established components in refrigeration systems due to their compactness, durable designs, ease of installation and cost efficient operation
Smaller, lighter, stronger and more efficient
Alfa Laval copper brazed plate heat exchangers are smaller and stronger – a result of high heat transfer coefficients, small hold-up volumes and the use of thin materials. Unlike conventional shell and tube heat exchangers, their efficient design allows them to provide more heat transfer with a smaller footprint
Simply fresh - today and tomorrow
With more than 80 years of successful heat transfer development, Alfa
Laval knows what it takes to deliver energy-efficient solutions for your application. Our brand is about performance and our goal is to deliver the best products and solutions for your job. We develop highly standardized ranges and classify them by article numbers to facilitate easy selection and quick delivery. This ensures that you always get the right solution from one single supplier.
Today's solutions for tomorrow's demands
Our energy-efficient refrigeration solutions are developed to handle the demands of today's industries, and are also ready for the future in terms of international refrigerant and emission regulations. Alfa Laval heat exchangers are certified according to below regulations and standards.

Energy efficiency - Our products and solutions save energy, reduce cost and are future proof.
Expert reliability - With over 80 years of experience in heat transfer technology and more than 5000 installations across the world we have the application expertise.
Simple and available - We offer a compatible full standard product range from stock. Our products are easy to select and install and no matter which country we are there to support you.
Product Guide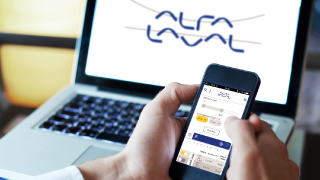 Quickly find the right Brazed and Gasketed plate heat exchangers for your HVAC, Refrigeration and Oil Cooling needs with the new Alfa Laval Product Guide.
Join us for a webinar series on cooling systems
Cooling applications are experiencing a rapid transformation, with sustainability drivers creating all new challenges. But Alfa Laval can help. Join our subject experts for the first ever webinar series devoted to the latest trends – and solutions – shaping our industry. Take part live – or watch on-demand according to your schedule!
Your hub for the latest in heating and cooling
With expertise from decades of experience in heat exchange, Alfa Laval offers knowledgeable resources for today's heating and cooling challenges. Discover answers to complex questions on everything from energy efficiency to natural refrigerants, along with helpful tools that make it simpler to find the right technology for your application.
Looking for more commercial refrigeration insights? Contact us today!
Meet our Expert: Diego Orsucci
Diego is the HVAC and Refrigeration Sales Manager, Key Accounts and OEMs for Alfa Laval. He has been working in the industry for sixteen years with Brazed and Fusion-Bonded Heat Exchanger Technology, providing solutions to various industries like Air Conditioning, Commercial Refrigeration, Heat Pumps, Boilers and Heating and Engines.
Connect with me on LinkedIn