Decanter centrifuge rebuilds and upgrades
Restore and improve decanter centrifuge performance for sludge dewatering and thickening


If your decanter centrifuge is showing signs of reduced performance due to wear and tear or changing process conditions, it may be time to consider a rebuild. Refurbishing or upgrading your decanter centrifuge can restore, or even improve, sludge thickening and dewatering performance. With decades of expertise in the industry, Alfa Laval can restore equipment to factory OEM specifications, with factory certified welders and mechanics.

A rebuild can be significantly less expensive than a new machine or full rotating assembly. By avoiding expensive engineering or structural expenditures associated with new equipment, you can significantly save time and money while ensuring that you continue to get the process results you need.


Typical scope of a complete decanter centrifuge rebuild
From the Sharples models dating back 20+ years, to the modern ALDEC G3 Vecflow design, the deep knowledge and technology portfolio at Alfa Laval allows for many older machines to receive modern upgrades that can dramatically improve performance and efficiency.
A typical rebuild includes: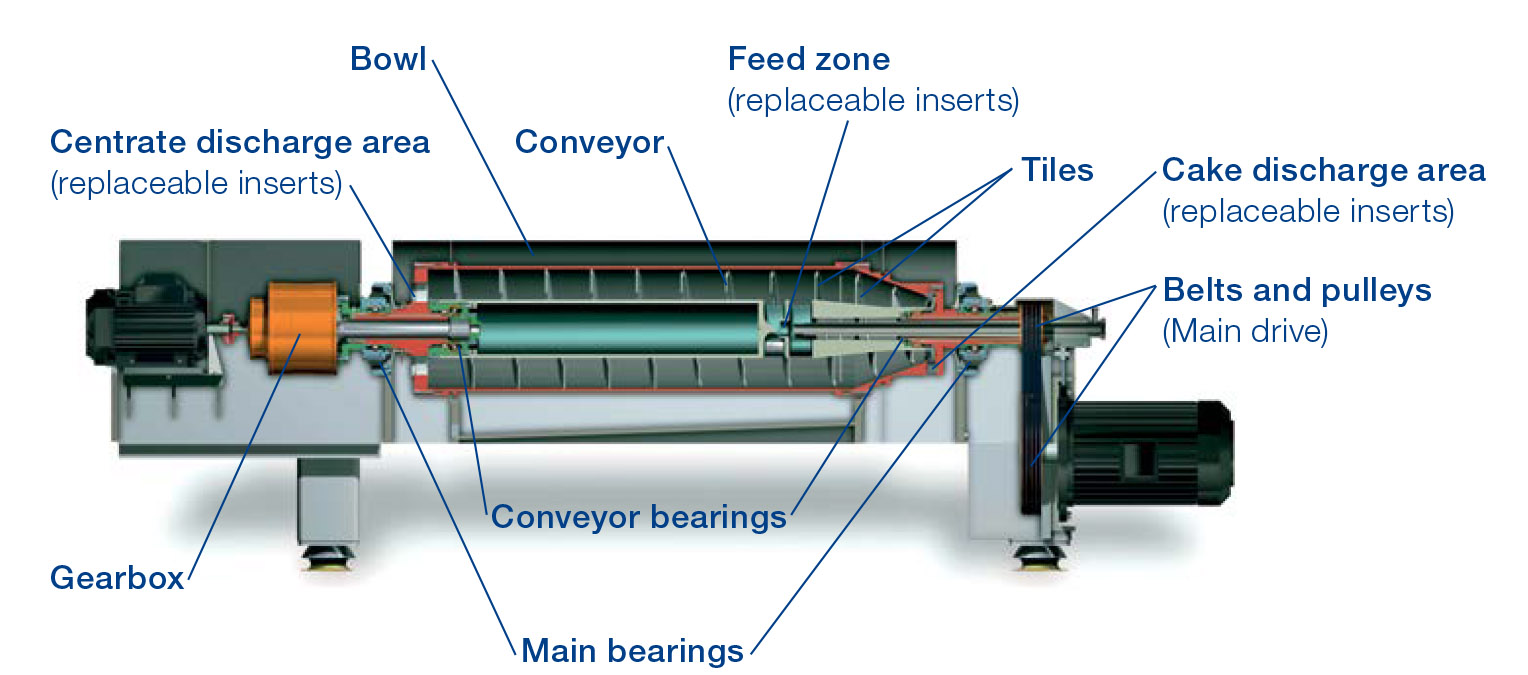 Bearings
Bowl repairs
Conveyor repairs
Gearbox
Wear components (tiles, strips, inserts, etc.)
Start-up and optimization (typically quoted as optional)

Upgrades that reduce maintenance and improve performance


| | |
| --- | --- |
| Modification | Benefit |
| Electrical back drive upgrade | Increase flexibility and process control |
| Install a modern control panel | Enhanced data and control |
| VecFlowTM feed zone (for thickening applications) | Up to 20% less power and reduced polymer |
| Power plates upgrade | Up to 20% energy savings |
| Connected Services | Predictive maintenance and optimized performance |
Rebuild project timeline


As with any decanter centrifuge, it will be necessary to perform a rebuild of the rotating assembly as part of the maintenance of the machine. Alfa Laval performs an extensive examination and assessment to ensure that you understand what is being recommended to allow you to make the best decision for your plant. A typical upgrade / rebuild process entails:
Schedule your free equipment assessment and meet an Alfa Laval expert at your site

You'll receive an estimate for disassembly, cleaning and evaluation

Accept the quote and schedule service

Send your decanter centrifuge or rotating assembly to one of four Alfa Laval decanter centrifuge service centers across the U.S.

Your equipment is disassembled and professionally cleaned

Alfa Laval certified technician evaluates your equipment and provides a firm quote with detailed scope of work

Alfa Laval technicians rebuild your decanter centrifuge to original OEM specifications and tolerances

Your machine is returned to your site and put into service (Alfa Laval technician on site if requested)

Start saving money and improving performance for your dewatering or thickening process

Protect your investment with a long-term Alfa Laval service agreement
Need help determining if a rebuild is right for you? Talk to a rebuilds expert today and schedule your free equipment assessment!

What's included? An Alfa Laval expert will visit your site for a full inspection of your equipment. You'll receive a estimate for disassembly, cleaning and evaluation that includes options to fit your budget and deliver the performance you will most benefit from.
Decanter centrifuge service centers
Documents
Each rebuild is different and Alfa Laval will work closely with you to accommodate the services you need to ensure that the upgrade / rebuild meets your requirements.
You may also be interested in: