Foodec Hygiene Plus - advanced food processing
The food industry's requirements for hygiene are advancing, but is your installed decanter centrifuge keeping up with the latest compliance standards? Will it truly stand up to your next USDA inspection? Alfa Laval Foodec Hygiene Plus will advance your food centrifuge from potential write-ups, to a fully drainable, CIP design - that hygienically and efficiently cleans regardless of your light or heavy processing phases.
Food grade bottom line
Your process demands a food grade centrifuge that's easy, with thorough cleaning, where Foodec Hygiene Plus will solve the following cleaning problems:
All remaining liquid drains after flushing/CIP
An interior wall that's truly clean
Efficient use of CIP solution
Easy inspection of rotating assembly - without removal
Stainless steel frame - no more rust or extensive painting prior to inspection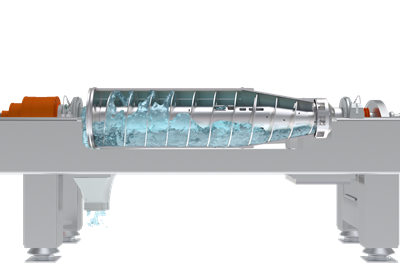 Food industry features – by the numbers
Drainage or inspection holes: Removes excess liquid, eliminates a contamination source. Or, use opening to inspect rotating assembly
Hygienic interior wall, stainless steel frame: Help reduce USDA or FDA write-ups
CIP feed tube: Efficient dead end and feed zone area cleaning
CIP bar: For optimal interior frame and bowl cleaning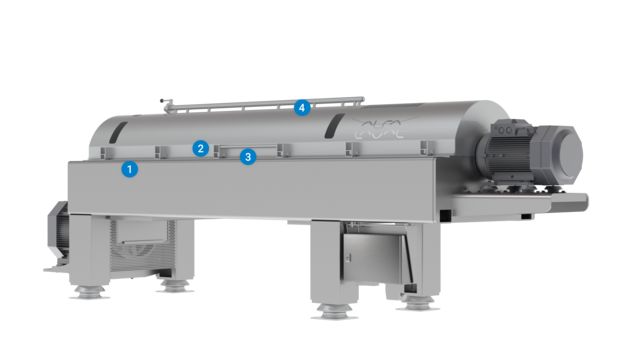 Is your decanter centrifuge keeping up with demand, and the latest compliance standards?
See our TrueStainless™ frame, and SaniRibs®, uniquely seal welded ribs - for efficient solids transportation:
View our enhanced CIP spray bar, with a series of nozzles that eliminate build-up areas:
TrueStainless™
Designed for long-lasting and unmatched hygiene.
TrueStainlessTM ensures solid stainless steel is used for the frame and other key parts that may be in contact with corrosive atmospheres, leading to optimal hygiene and longer equipment life.
SaniRibs®
The cleaner, more efficient way to transport solids.
Our unique seal welded ribs create optimal friction which offers better, more efficient solids transportation. This innovative technology also eliminates pathogen hot spots and allows for easy cleaning, meaning longer production runs, less manual maintenance, and improved profits.