Alfa Laval FrontLine Automatic is a premium plate and frame heat exchanger design, featuring a unique electric opening and closing drive system, which smoothly and automatically moves the pressure plate within the frame. Fully automated and controlled via an integrated PLC system, the frame opens and closes to precise preset positions, allowing for easy plate inspection, cleaning and maintenance – while preserving the life of the plates and gaskets.
An automatic, yet versatile solution: From basic food and beverage heating and cooling, to precise plate heat exchanger milk pasteurization
A clean, simple electrical drive system that automatically opens and closes the frame
Fast closing and opening speeds, for quicker and easier FDA inspection
Safe, single-operator operation - with emergency stop cord
Provides 40% more capacity than comparable models, within less floor space
Extremely energy efficient – each Alfa Laval heat exchanger provides over 90% heat recovery
The FrontLine Automatic is one of the world's largest and most advanced gasketed plate heat exchangers, with increased throughput and higher heat recovery within a smaller footprint, and features an automatic opening and closing frame. The larger plate sizes are key to providing more energy savings in a single frame, where each FrontLine unit is capable of 92% heat recovery at 570 GPM pasteurizing and 94% heat recovery at 450 GPM pasteurizing. And as a pasteurizer heat exchanger, it has a capacity of 2000 GPM for cheese milk pasteurizing and 800 GPM for milk pasteurizing.
The technology that brings FrontLine Auto to life
Automatic opening and closing is provided by a programmable touch screen and proven PLC control interface which automatically opens and closes the unit to preset positions. The electrical drive system eliminates hydraulic oil and offers clean operation. The control system can easily be reconfigured and allows communication with other equipment via a standard Ethernet connection.
Not all plate heat exchanger frames are created equal
How sturdy is your plate and frame heat exchanger? With hundreds of gallons of product running though your heat exchanger, don't trust an inferior, less hygienic frame as not all frames are created equal. Each of our frames are tightly sealed with pressure plates that keep the outside clean, and inside support structure hygienic and dry. Every leg is constructed with sold and tested steel, with sloped surfaces at the top and bottom of each frame to improve hygiene. Even the smallest components such as nuts and bearings are readily accessible and lubricated.
Why every plate matters
At the heart of an Alfa Laval heat exchanger are the highest quality, precision engineered plates that fit your hygienic application. And since plates are the contact point for your product, processors trust our unique plate pattern, which consistently provides even and gentle heating of the most sensitive food and beverage products. And that attention to engineering detail has expanded to additional plate options to precisely fit your application, including:
Clip plate
Our proven chevron plate pattern is the plate and frame heat exchanger design standard for all hygienic applications. With exact and consistent plate pressing depth, each plate features smooth port entry points, an even distribution area – all contributing to optimal heating and cooling performance.
Gemni double wall plate
Ideal for pharmaceutical or personal care applications, where fluid mixing prevention is imperative, each plate consists of two plates pressed together. The result is a double wall plate, forming the highest level of plate heat exchanger heat transfer protection.
WideStream plate
Each plate has very few contact points, which helps prevent blockage and results in longer uninterrupted operating times. The plates are specially developed for the pasteurization of fruit juices and other products containing pulp and fibers.
Frontline applications – not just for dairy anymore
Alfa Laval's FrontLine range has been known as the dairy plate heat exchanger standard for decades. But did you know it can heat, cool and pasteurize much more than milk – even viscous products? Here are some of the applications that you would not expect FrontLine to master: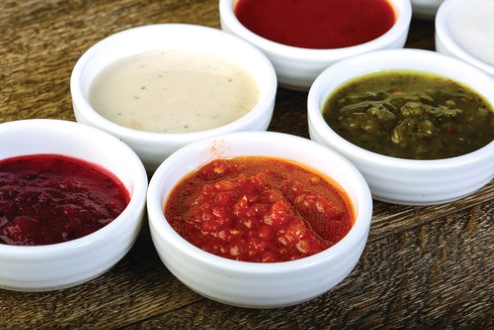 Beverage and energy drink pasteurization
Standard and pulpy juice pasteurization
Beer wort heating and beer cooling
Liquid egg processing
Bottled water treatment
Soups, sauces and starch heating
Catsup and mustard heating and cooling
Vegetable oils
Biotechnology culture/broth sterilization
Pharmaceutical WFI thermal treatment
Channels are formed between the plates and the corner ports are arranged so that the two media flow through alternate channels. The heat is transferred through the plate between the channels, where the counter-current flow helps attain the highest possible efficiency. The corrugation of the plates provides the passage between the plates, supports each plate against the adjacent one and enhances the turbulence, resulting in efficient heat transfer. Our thermal design engineers will help you design and select the model and configuration that is suitable for your application needs while delivering maximum thermal performance and minimizing pressure drop.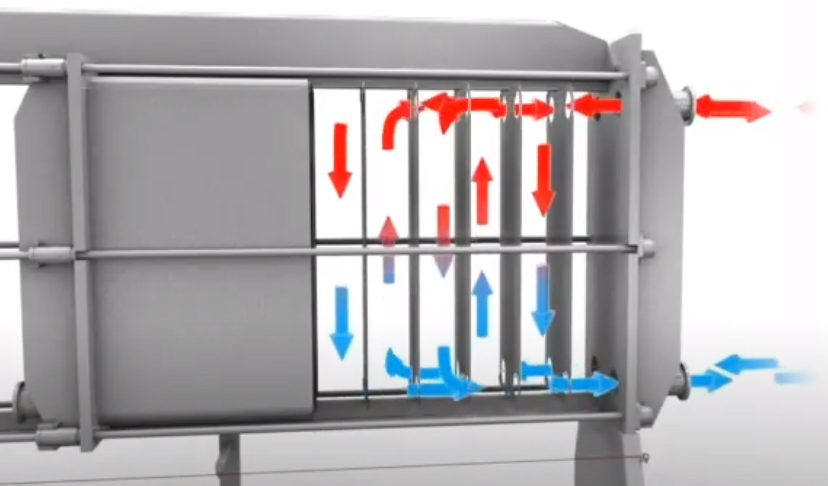 How to start changing plates
Hygienic attention to detail