Domestic hot water systems
The plug-n-play systems provide Domestic Hot Water (DHW) to buildings such as apartments, hospitals, hotels, sport centers, and schools. The systems can be connected to district heating or the local heating source, with the possibility to be combined with renewables.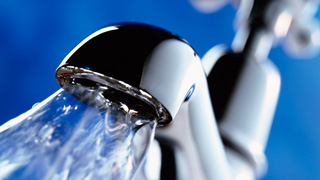 AquaONE water-to-water system
The Alfa Laval AquaONE water-to-water domestic hot water system connects to a hot water source and utilizes the industry's most efficient Alfa Laval plate and frame heat exchanger to supply domestic hot water to buildings.
Two models are available to fit any installation arrangement - instantaneous and semi-instantaneous - operating with both a 2-way or 3-way fast-acting magnetic control valve for connection to the local boiler, primary tanks or solar systems.
Benefits
Features an Alfa Laval AHRI certified double wall plate and frame heat exchanger with 316 SS plates
Plug-n-play operation - simply plug an ethernet cable into the RJ-45 connection, bring in a single-point power line, connect the piping and the system is ready
Potable water side components are lead-free, copper and stainless steel
Features a fail-closed control valve and anti-scalding valve
All temperature sensors, pressure sensors and flow switch (optional) have quick-disconnect cables for easy replacement
Manufactured in accordance with ANSI, ASME, AWS, NEMA, CU and CUL standards, and the entire system is pressure tested
AquaHeat steam-to-water system
The Alfa Laval AquaHeat steam-to-water system is an instantaneous, compact and healthier solution for hot water demands. The system eliminates large volume storage of hot water where temperature stratification and sediment accumulation can support the growth of Legionella. The system also flash heats the water to a high temperature to kill pneumophila.
AquaHeat provides hot water on demand and eliminates the need for large storage tanks that require significant energy to maintain water temperature.
Benefits
Compact, space-saving design
Controlled and instant hot water on demand
Energy efficient
Reduced health risks
Accommodates extreme load fluctuations without the need for storage tanks