Heating systems large
Energy-efficient district energy substations offer preconfigured solutions for all heating, domestic hot water and cooling requirements. Applications include residential, commercial and industrial buildings, for both new installations and renovation projects.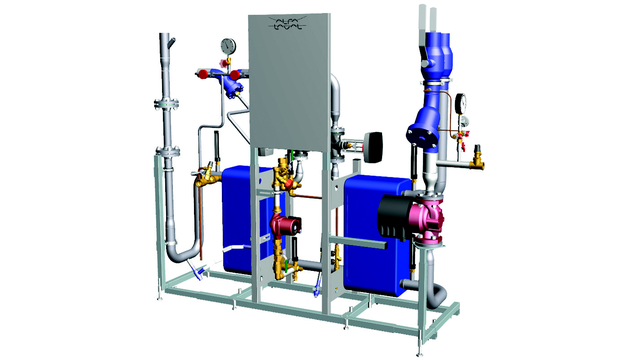 Related industries
Related services
Alfa Laval Maxi ETS
The Alfa Laval Maxi Energy Transfer Station offers a wide range of standardized district heating substations with AHRI certified heat exchangers. When connected to a district heating or cooling network, the range is designed to provide:
Space heating only (radiators and floor heating)
Space heating and domestic hot water
Cooling
Standard yet flexible
The Maxi ETS range is a standardized engineered package; however, each ETS unit can be customized to meet the specific customer needs and building requirements.
Benefits
Energy efficient solution reduces lifetime operating costs with AHRI-certified heat exchangers
Robust and reliable Alfa Laval components in compliance with US regulations and standards
Short lead time - made in the USA
Standard controller is adaptable to Modbus, BACnet and many others
Plug-and-play design for quick and easy start up
AHRI-certified heat exchangers
The integrated copper brazed and double wall gasketed plate heat exchangers are certified according to the AHRI Liquid to Liquid Heat Exchangers (LLHE) Certification Program. AHRI certification is the only global, third-party performance certification for plate heat exchangers that ensures heat exchangers perform in accordance with manufacturers' published specifications.
For more information, visit Alfa Laval's HVAC AHRI perfomance certification page.
Request information for Heating systems large